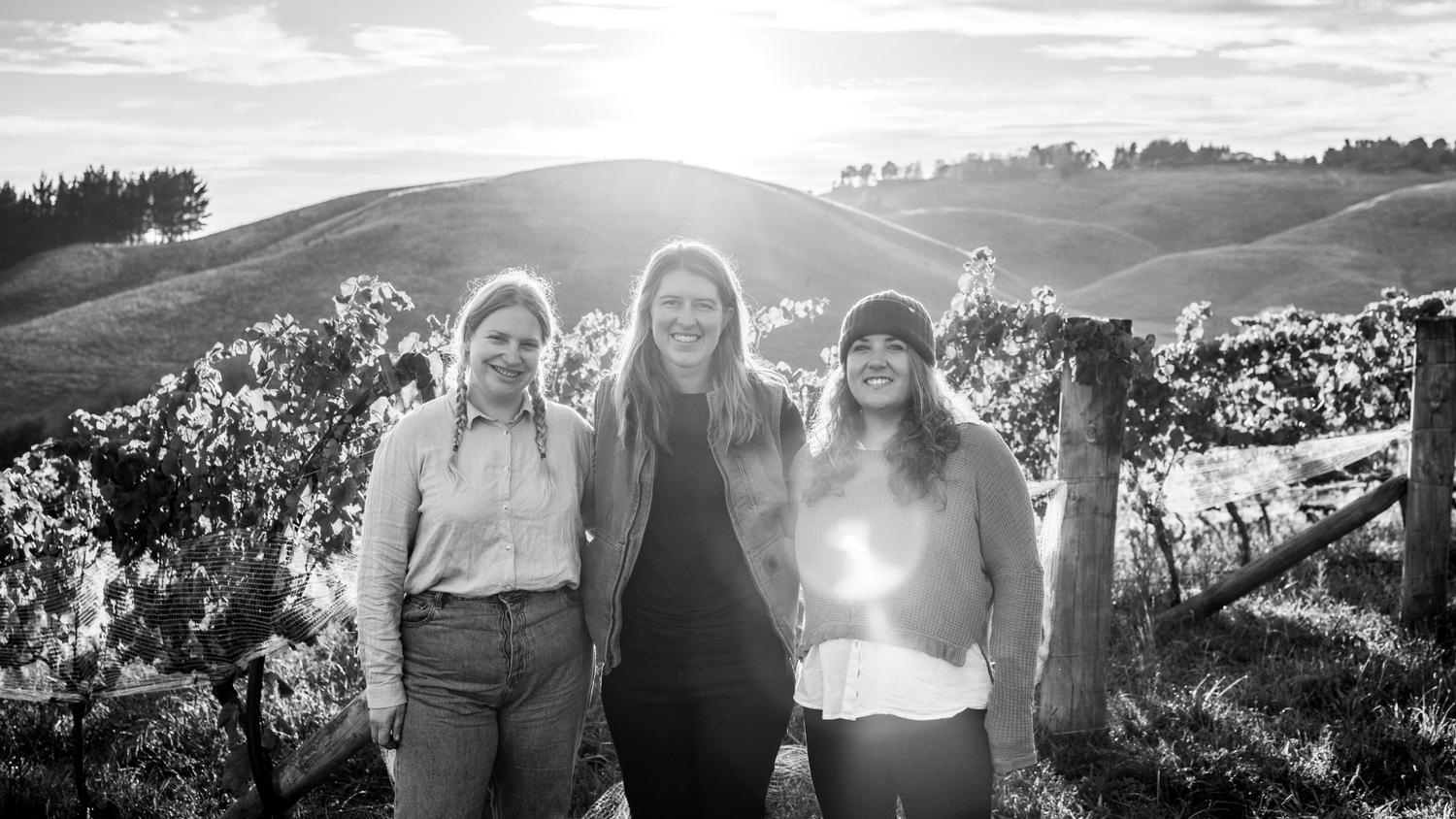 Three Fates is the winegrowing and winemaking project of Holly Girven Russell, Hester Nesbitt, and Casey Motley.
The Covid-19 pandemic in 2020 saw the opportunity arise for a struggling vineyard to see some new management. Relatively unknown to each other, Holly, Hester, and Casey had little else going on so leapt at the opportunity to get busy.

Almost four years on, Three Fates is an evolving project but the trio are united in their passion for working intuitively and acting minimally in the winery to reflect the ever-changing character of the vineyard; trapping a season in a bottle. Three Fates allows the team to pursue their joy for winemaking, crafting the wines they want to drink.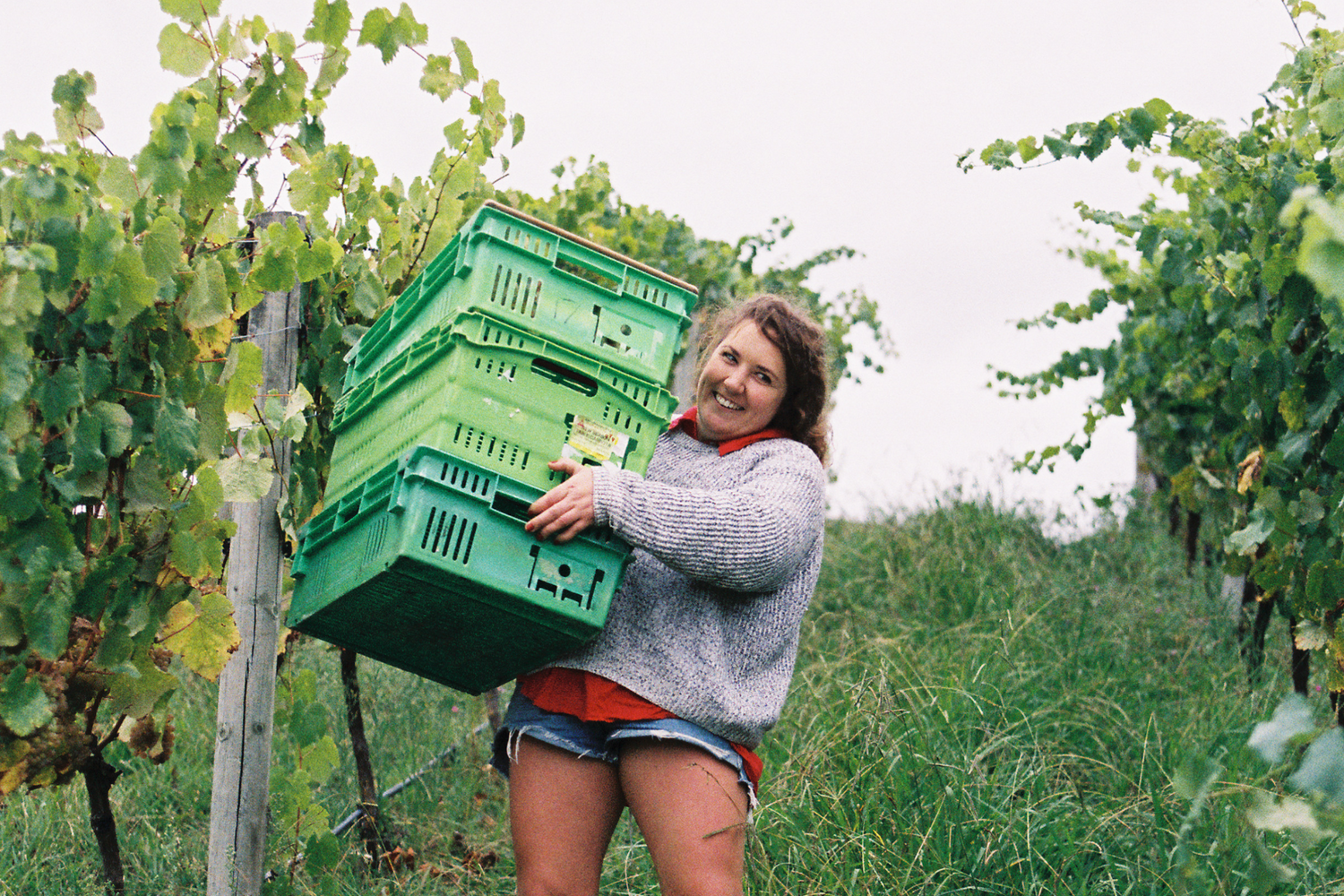 Casey Motley
As a teenager, Casey enjoyed a short internship at Paritua Winery so went straight from high school into a wine degree at EIT with dreams to travel the world. The following ten years saw her work at wineries across New Zealand, Australia, Germany, Austria and France with exposure to winemaking at all scales. The most rewarding experiences were those where there was a fusion of vineyard and winery; the winemaking truly decided in the field. This was first realised while working with Mac Forbes in the Yarra Valley in 2015, coincidentally an experience Holly would share 5 years later.
Particularly memorable was the time spent at Weingut Jurtschitsch where the medley of tradition and modernity was ever-evolving. It was at the prestigious Domaine De Montille in Burgundy that her passion for the vineyard was unlocked and after a year she returned to New Zealand for a summer in the vines at Millton, her European way of life coming with her. 
These days Casey has traded cellars for lecture theatres as she works towards becoming qualified as a nurse, her incredible people skills and affinity for high pressure situations making this a great fit. Casey does an exceptional job balancing study, work, and Three Fates where she not only runs the Wellington market but also is a jack of all trades from the vineyard to the cellar. She has a particular skill for eyeing up any vehicle and knowing exactly how many 225L barriques will fit inside (her Subaru Legacy takes two comfortably.)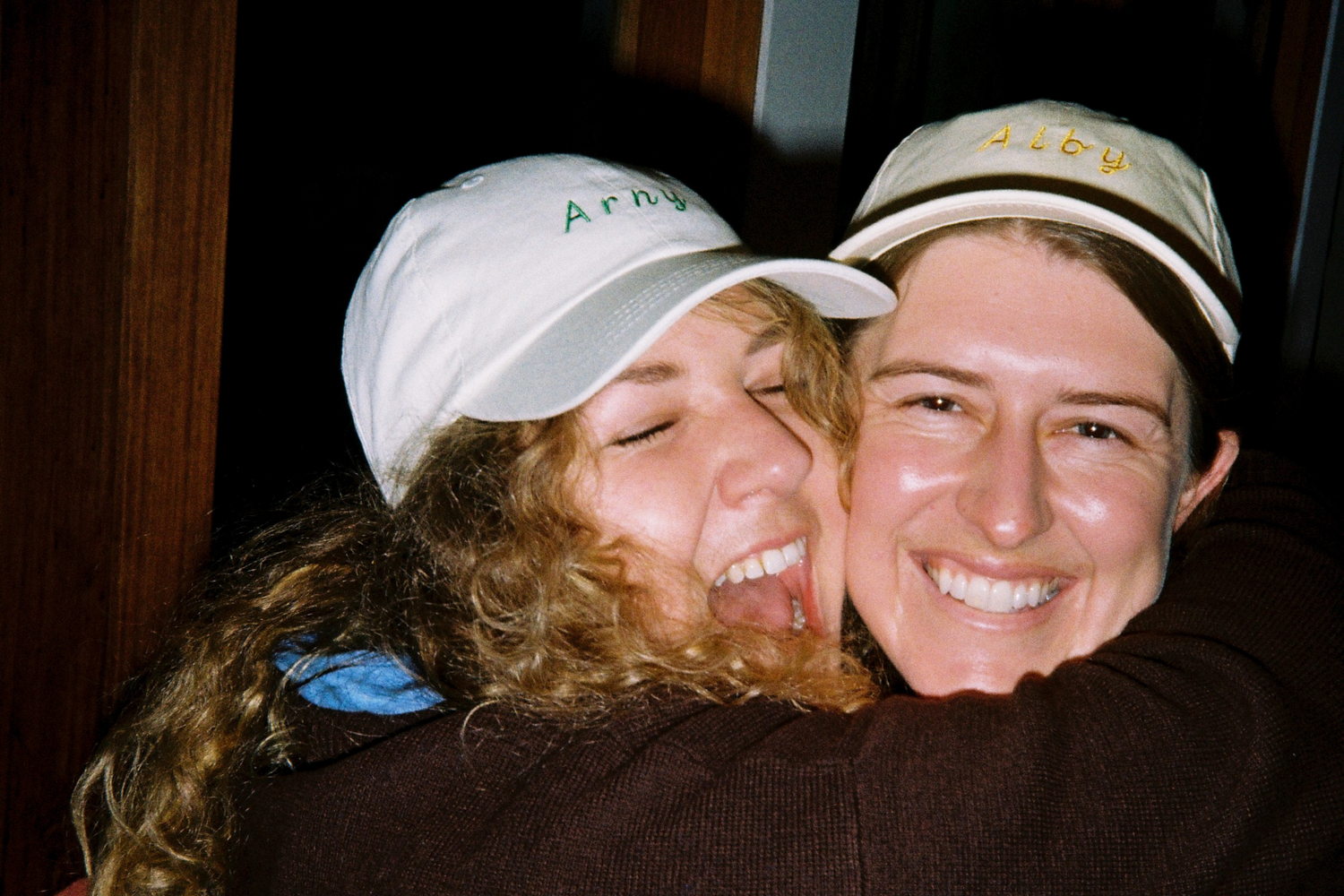 Hester Nesbitt
After completing winemaking studies at Lincoln, Hester headed abroad first to Adelina in the Clare Valley, then onto Greyfriars in Surrey to make sparkling wine. Following that, she lived in France for a year and worked harvest at Francois Villard in the Northern Rhone making Cote Rotie and Condrieu after spending winter on the ski slopes. She's had time to clock up a few harvests in New Zealand at Te Mata (where she's remembered for her barrel skills) and Elephant Hill where she met Holly. A particularly notable harvest was spent in Sonoma making premium Pinot Noir at Merry Edwards.
Hester is the brains of the operation; not only does she have a Bachelor in Plant Biotechnology, a Graduate Diploma in Viticulture and Oenology, but also a Master of Global Business! Her current day job has her driving tractors on a sheep, beef, and cropping farm in Central Hawke's Bay, making her an absolute font of knowledge for podcast recommendations and Spotify playlist curation. Harvest days would be impossible without Hester's skill at reversing trailers and mastery on the ATV down the narrow vineyard rows, not to mention her hookups with a ute or two.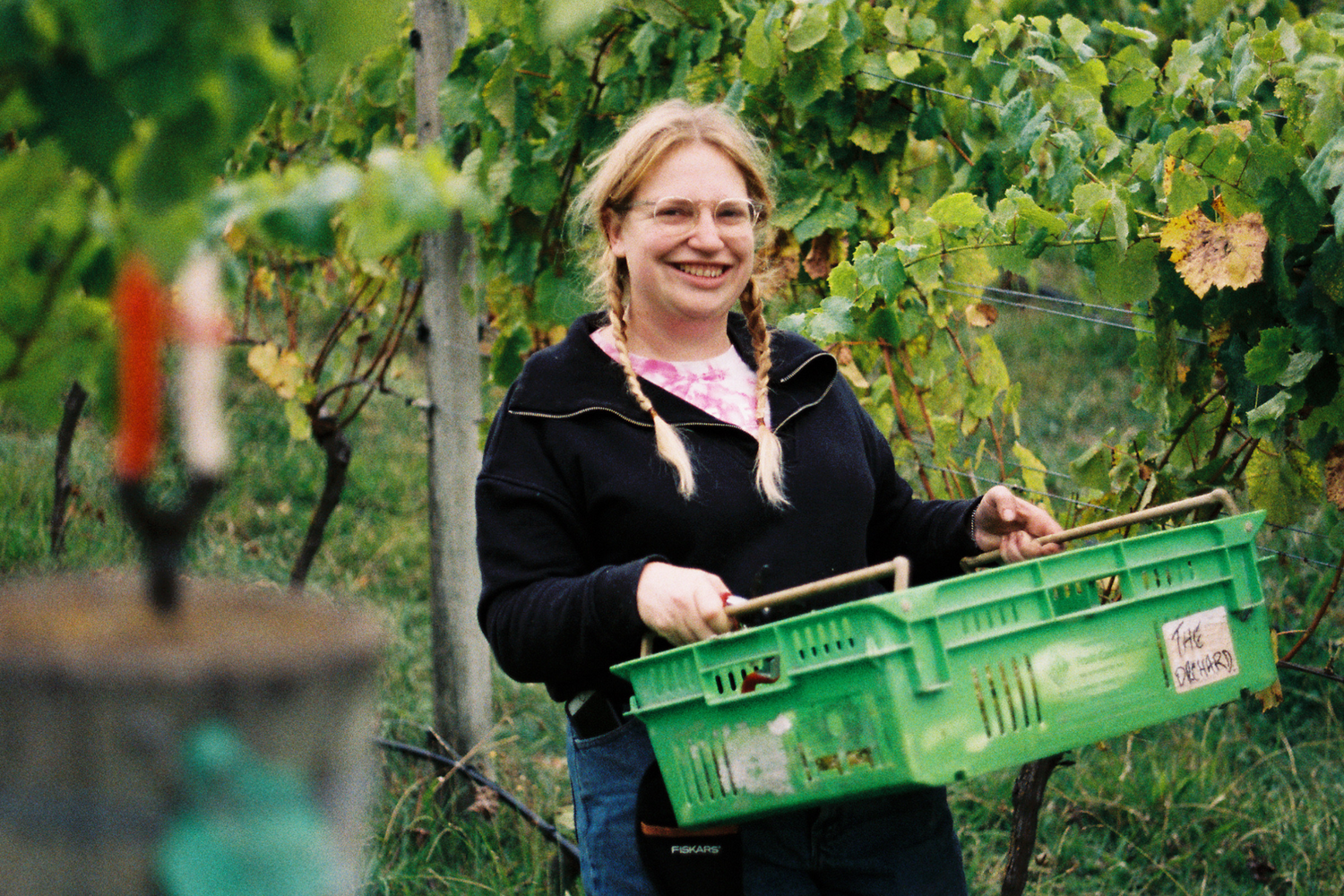 Holly Girven Russell
Holly came to winemaking at the ripe old age of 25, but grew up in a winemaking household witnessing what an exciting and fulfilling life it could be. Rather than heading straight to winemaking school, she started as an analyst in the Wine Buying team at Marks & Spencer in London where she spent a few years tasting widely and becoming increasingly infatuated with the world of wine. In 2017 she returned to Aotearoa to complete Graduate Diploma in Wine Science at Auckland University, based on the beautiful Waiheke Island. Following this she bounced around working three harvests at Elephant Hill, a harvest at Tawse in Ontario, and a particularly inspiring harvest with Mac Forbes in the Yarra Valley. In between these experiences she did every other wine job there is, from bottle stores to vineyards, cellar doors to packaging logistics, and a summer in a winery lab.
With her frugal nature and deluded confidence in learning anything from Google, Holly runs most of the Three Fates marketing, admin and logistics from curating our website (hello!) to organising bottling dates and dry goods. Based in Auckland, she manages the trade up there and relocates to Hawke's Bay during harvest, taking up residence in her childhood bedroom so she can have one-on-one time with the grapes every day.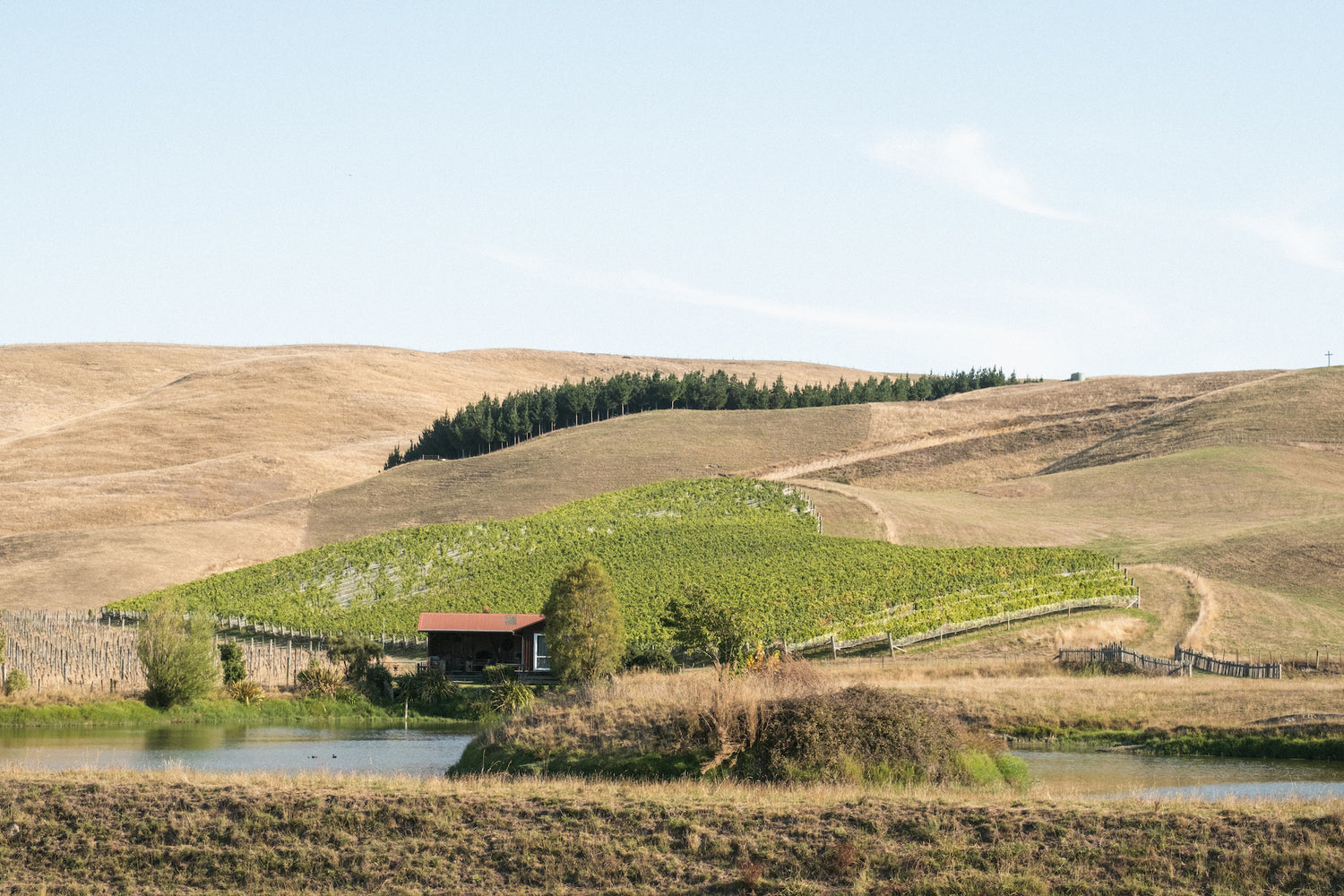 The Noetzli Family Vineyard
Three Fates began as a vineyard project in early 2020, working with the hillside block on the Noetzli Family Vineyard in Maraekakaho, Hawke's Bay. The sunny site was planted in 2007 and is home to Arneis, Albariño, Cabernet Franc, and just a splash of Syrah. Almost the last vineyard in Hawke's Bay as you head south along State Highway 50, it is not influenced by the coastal sea breeze and is largely protected from rainfall by the Ruahine Ranges.
The days are long and warm, allowing a really gentle and slow ripening with little disease pressure. Sitting about 100m elevation, as well as providing a great workout, the slopes give a natural protection from light frosts and work to restrict the vigour of the vine, concentrating grape flavours. A day spent on the hillside is one full of beauty.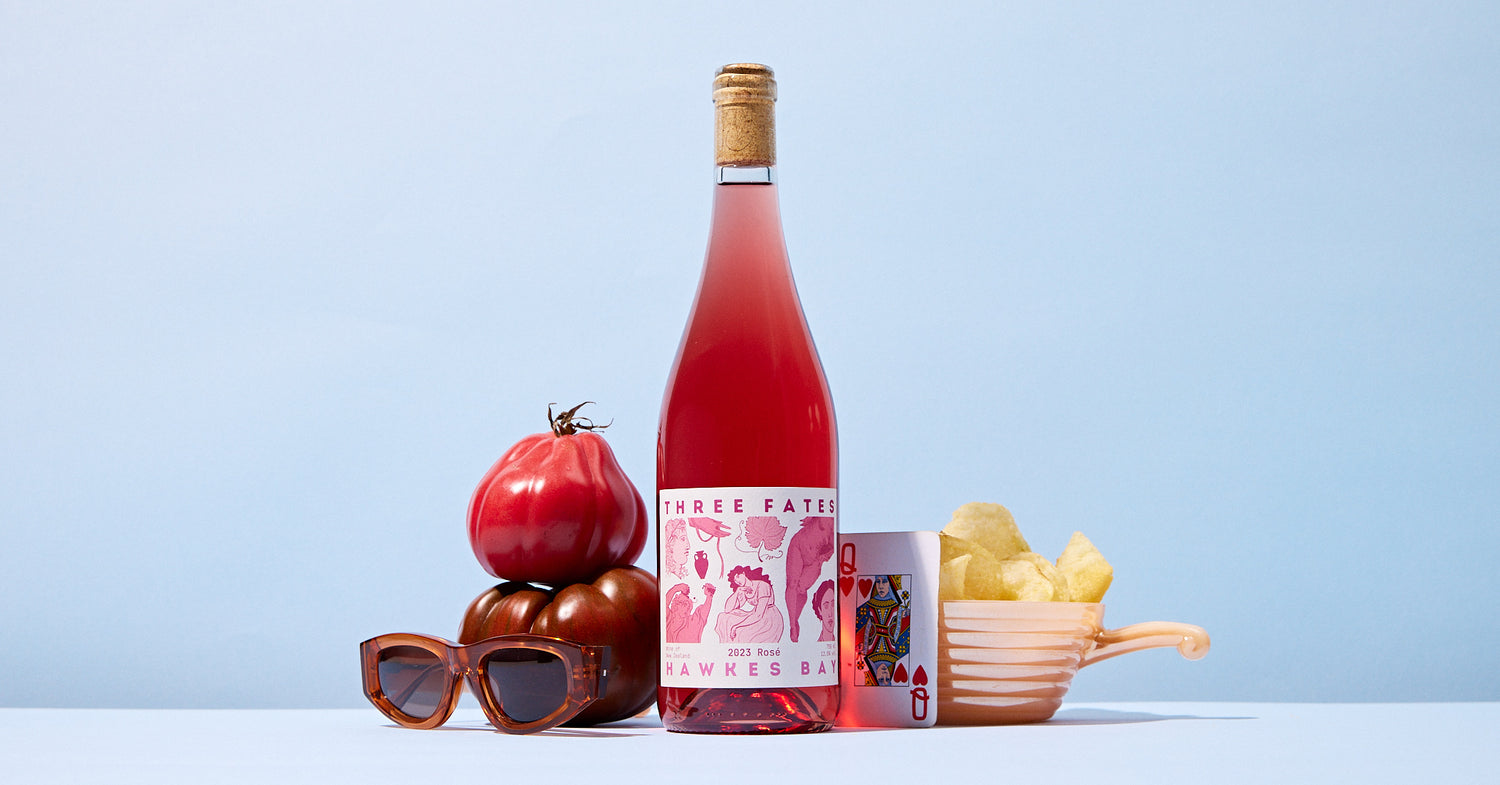 The TK Vineyard
We intended to use our own Maraekakaho Franc to make the 2023 Three Fates Rosé, but on picking day found the yield so low and the fruit so delicious that we directed it all to our red wine. Still keen to make a rosé after the fun had with the 2022 iteration, we made some phone calls look for ripe red grapes and scored the jackpot; organically grown Syrah from one of our favourite vineyards in the Bridge Pa Triangle! 
The red metal TK vineyard is owned by the Herringbone Wines family with day to day management handled by Bridget Wilton and Miles Leicester who do a superb job growing premium grapes and supporting small producers. With very little notice, Bridget and Miles had the fruit handpicked and ready for collection by Hester after she knocked off work for the day. The grapes were of such a high quality that we briefly doubted our decision to press them for rosé; we have always wanted to make a Syrah after all! This Syrah makes up 75% of our 2023 Rosé blend.